Sunday I went on a massive shopping spree to Leeds Trinity Shopping Centre. I was shopping mainly for work clothes, holiday clothes and graduation dresses! I came back with a few bits and bobs – still looking for the perfect ceremony and ball dress though (so more shopping trips are in order yay!).
Vera Cut Out Flat Black Patent Leather Shoes
Office
Reduced £21.00
My sister has some shoes similar to this from Topshop and I love them (unfortunately for me though she is a few sizes smaller than me). I have literally been searching everywhere for some! Office were having a hugeeee sale and I found these! They're pretty much everyday shoes for me – so for work when it is nice, on a weekend with dresses/jeans/leggings. Another thing I love about Office is that they didn't have my size in so I ordered it online then and there with free delivery!
Topshop
The Topshop in Leeds is four floors so I spent a longggg time in here!
Broderie Pinafore Sundress
£38.00
I love this dress – as soon as I saw it I thought I have to have it!
Colour-Block Luggage Bag
£58.00
I bought this bag for work. It also came with a longer, adjustable strap in case you didn't want to carry it.
Oversized Chambray Shirt
£30.00
This is to wear for work and casually on a weekend with jeans. I love how this shirt can look smart or casual depending on what you wear it with. It is oversized so depends on how loose you want it so I tried on a range of sizes from a 6 to a 10 and chose the type I preferred. It also has slits in the side which I loveeee.
Victoria's Secret – PINK
Sports Duffel Bag
£34.99
I needed a new sports bag, and PINK in Victoria's Secret has some gorgeous sports wear. The bag is amazing – so spacious for all my gym stuff and has pockets for water bottles, padlocks etc.
Bodycare
I love Bodycare for cheaper branded toiletries.
Eyeliner/Brow Pencil Sharpener
I bought mine for 99p because I am always borrowing my sister's sharpener!
Minature Toiletaries
99p Each
I bought a shampoo, conditioner and miniature suncream (£2.99) from Bodycare for my trip to Prague on Saturday! I think they're perfect size – they do them at Savers, Poundland or Bodycare (a lot cheaper than Boots).
Simple Light Moisturiser
£2.99
Definitely one of my favourite items in my make up bag. Every time it runs out I replace it – I use it as a moisturiser for face, body and hands. I always buy the light version (there is a rich version also).
Neutrogena Face Scrub
£2.79
I love this face scrub. It's always good to change up your face washes and shampoo/conditioners every so often.
Norwegian Formula Hand Cream
£2.99
I am obsessed with this hand cream! It smells amazing and you only need a teeny bit as well!
Wish List
Yellow printed V-neck cami playsuit
River Island
£20.00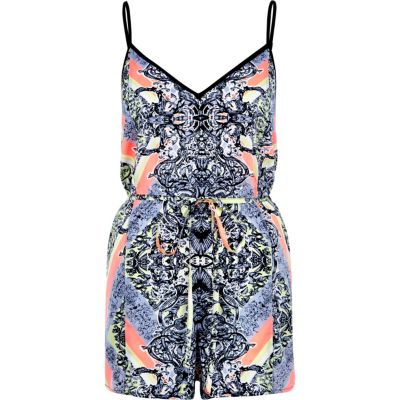 I love playsuits, they're perfect for sporting holidays. I want to buy this for my family holiday to Centreparcs!