I cannot believe I am doing the August favourites! (Seriously where has this Summer gone?!) I am a few days late in writing it (oops) but I can assure you that I do have a very good reason! I went on a long weekend away to Cumbria which was really lovely and I have been taking personal training sessions which I am really enjoying! Anyway enough of the excuse rambling..without further a do here are my August favourites…
1) MAC Haute and Naughty Lash Waterproof Mascara £19.00
Something I am loving a lot this past month was the MAC Haute and Naughty Lash Waterproof Mascara. This is so good! I bought a Haute and Naughty Lash Mascara before from MAC but it wasn't the waterproof version so I thought I would try this version and I'm glad I did! It is honestly amazing – my mascara never comes off – like ever. If it's raining or I'm at the gym it doesn't so much as budge off my eyelashes. There is a teeny flaw in that it barely comes off even in the shower so I have to use product to remove it all. But as far as waterproof mascaras go this one is fab!
2) VIVA GLAM Miley Cyrus Lipstick £15.50
I have ranted and raved about this lipstick in the past and I swear by it. I wear it everyday for work and on nights out. It stays on so well, the colour is gorgeous and as it isn't a matte based lipstick it is really easy to apply! Plus it is for a good cause too as a portion of the sales go to helping people with AIDS/HIV.
3) Maybelline Dream MATTE mousse foundation £7.69
Every so often I like to change up my foundation and this high street one I love! It isn't a cream – the only thing I can describe it as is a crumbly paste (which doesn't sound good at all but I can assure you it is!). This was my first ever foundation and when it runs out I just buy a top up. It isn't as heavy feeling as my MAC or Dior one. It is quite light on my skin and I just use it for a base really if I have any blemishes and don't want to do my whole face with liquid foundation. This foundation is definitely better in heat than liquid ones because you don't go shiny when you wear it. There are so many shades available too I tend to opt for the Honey Beige shade. It's a good value for money!
4) Solait Self Tan Tinted Lotion (on sale at the moment in Superdrug for £3.45!)
This is definitely a favourite of mine. I don't tan often at all but when I do this is my go-to lotion. It is subtle (the more layers you apply the less subtle/more tanned you become). It doesn't make you go orange at all – people think I have gone abroad when I wear this! Plus it is such a great value for money usually it is about £7.99.
My Beauty Wish List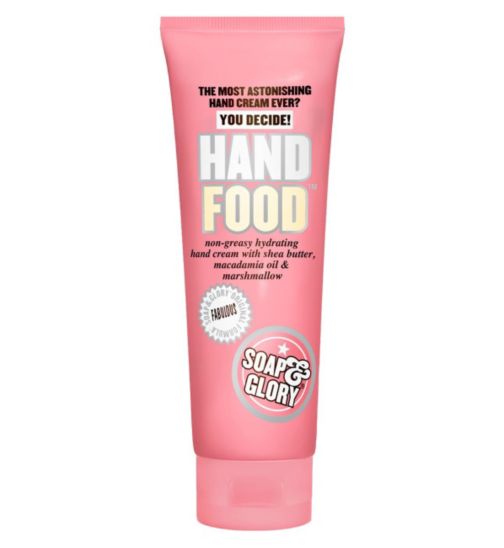 Going to the gym more often my hands tend to get rough  (where the bar rubs against them) so I am definitely going to buy some Soap and Glory Hand Food! I absolutely love the scent and the packaging!